Full Training Notes available for Rs.10,000/-
Useful for IELTS Trainers – English Professors – English Teachers – etc.,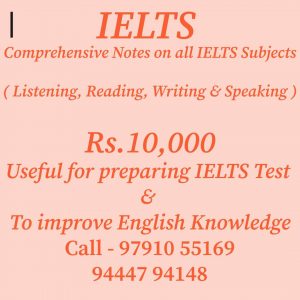 UNIT I 
IELTS – AN INTRODUCTION 
IELTS
  What is IELTS 
It is the International English Language Testing System.
It is a standardised test of proficiency in English.
Who owns it 
The test is jointly owned by the British Council, University of  Cambridge, IDP and IELTS Australia.
What does it test 
It tests the four basic skills of English, namely Listening, Speaking, Reading, and Writing (LSRW)
The Purpose
It is is designed to assess the language skills of non-native speakers of English seeking to study or work in an English speaking country.