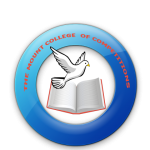 STRAIGHT FROM THE DIRECTOR'S DESK
A single step begins the journey of a thousand miles
'What would you like to be when you grow up?' is an oft repeated question asked of children from time immemorial. I think the key to the answer is to be open to new ideas. You must be in a state of constant readiness. You must be receptive to even the oddest thing that might come your way. My first piece of advice is to consider very carefully the opportunities and possibilities available before you. Consider what you can and cannot before settling down, opting for an opportunity or choosing a career.
You should put considerable effort into gathering information before choosing. Aspirants to Civil, private and public services will come and go and so do aptitude tests. But these services, the recruitment tests, and the language tests would go on long after we are gone. Begin to see yourself and your preparation as part of a continuing saga that started long before you entered, and that it will continue long after you leave. That is a beautiful thing.
All India Services like IAS, IFS, IPS, and other central services have always been the most respected and preferred of services. So too are the services in the public and the private sector. The role of a civil servant has undergone drastic changes during the last 66 years after independence. The Civil Services tests have become increasingly complex but certainly more objective. The same can be said of any high level competitive examination. All these exams demand intensive planning and strict training schedules to prepare for them.
The Union Public Service Commission often creates a lot of heart breaks. It is important to discuss what to read. More so it is important to know what not to read. Be thorough with the syllabus. Work out old question papers. Prepare systematically but limit your preparation to the time available. If you reach the interview stage, book knowledge may not be enough. Your mental alertness will count a lot. Enhance your personality, because it will definitely be one of the criteria for selection.
First the candidate needs to prepare himself before preparing for the exam. The participant has to draw up an efficient plan and stick to it. You have to choose your options carefully. The time available, adequate guidance, reliable study materials and sustained interest are essential to overcome the preparation hurdles. Lack any one of the above intervene as severe constraints. If such constraints exist take up an easier exam. Ensure selection to a decent job and then prepare for the tougher ones. Perseverance always pays.  Try group study whenever possible and ensure clarity of concepts. Meticulous preparation, a confident outlook and sharp focus are essential prerequisites.
You have a responsibility to yourself to your family and to the society at large. Each one of you has something to offer (something you are good at).  And you have a responsibility to yourself to discover what that is. That's the opportunity an education can provide. The circumstances of your life, where you come from and how much money you have – none of that is an excuse. Training schedules and coaching programmes and the actual tests may not always be fun. Every lesson may not be the most stimulating thing. Nevertheless, it is certainly necessary and rewarding to work hard, no matter where you come from and what you are. There is no excuse for not trying. Where you are now should not determine where you'll end up. No one can write your destiny for you. You write your own destiny. You make your own future.
Set your own goals for your career and do everything you can to meet it. Your goal can be something as simple as doing your homework, paying attention in class or reading a book. Whatever you resolve to do, you must be committed to it. I want you to really work at it. Now, your families, the coaching institute and the faculty will do everything to make sure you have the education you need. But you have to do your part. Get serious this year and put your best effort into everything you do. Expect great things from yourself. Don't let us down. Don't let your family down. Don't let your country down. Most of all, don't let you yourself down. Make us all proud. Your responsibility as a participant does not end at this stage. You need to keep yourself emotionally strong, morally upright and intellectually alert throughout the course of your preparation.
Great endings find their genesis in small beginnings. A single step begins the journey of a thousand miles. Rome was not built in a day. Small though the beginning is, be slow but steady and be deep rooted in determination you are sure to achieve the desired goal. You will write your destiny. You will change the course of your own life.
The Mount College of Competitions attempts to offer a participant centric programme for a varied number of competitive exams. We undertake to train the participants for the central and the state civil services, banking services and Language and aptitude tests. We take the responsibility of bringing the positive change in your personality. Our dynamic programme would present the subjects according to the syllabi. We also attempt to inculcate in you the art of utilising the available knowledge to your benefit.
Our aim is not only to train a candidate for the exam but also to prepare him for life and bring the best out of him. We will keep you informed of your own progress throughout the training schedule. I assure you that we will guide you on the path of success and would do all that is necessary and possible. We look forward to your commitment, sincere efforts and dedication and your moral support and co-operation. It's our vision. Together we have dreamt of it! Together we will realise it!! Together we will achieve it!!